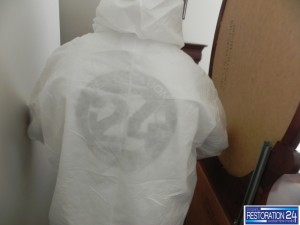 We are here to assist homeowners and businesses to overcome the devastating affects inflicted by Water and Mold.
Property Restoration24™ is independently owned and operated property restoration company.  We are one call away for emergency water damage of your home or business.  Property Restoration24™ is here to serve you.
We are experienced from start to finish.  There is no need for you to be passed around from department to department causing unnecessary delays in completing your project. You can feel confident with our process that your home will be put back to better than pre-loss condition with the least amount of interruption.
We have experience working with the insurance companies while working to complete your project.  Restoration24™ takes pride in everything we do while helping you recover from your loss as quickly and as easily as possible.
Attention Realtors
If your home inspector finds suspicious mold in the crawlspace or attic of a house your buyer is trying purchase, get expert advice to be able to make an educated decision on how to proceed and get to the closing table. Restoration24™ can utilize moisture meters, infrared cameras while visually inspecting your property to help resolve problems with mold and/or moisture.
When a home inspection report comes in on your listing notating suspicious mold, don't lose a sale, call us.  We can inspect, and provide solutions to solve your problem.