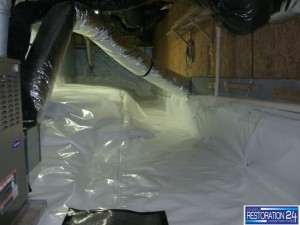 You may take the air you're breathing for granted, but being able to fill your lungs with safe, clean air is vital to your good health. To promote air safety and protect indoor air quality, the Environmental Protection Agency (EPA) has established some indoor air quality guidelines you should know about.
Americans spend up to 90 percent of their time indoors, and harmful indoor air is one of the top five environmental risk factors people face. Following EPA recommendations is an important step you can take to keep your home and even your work environment safer.
Heating and air conditioning ducts which are dark, damp and rich in "nutrients" provide an excellent breeding ground for mold, fungi and dust mites which can spread rapidly when these ducts are in use to heat or cool the home. Poor ventilation and dirty filters are also major contributors to unhealthy contaminates in the home. Mold and fungi can cause "discomfort", infections and commonly trigger allergic reactions.
Why has indoor air quality substantially deteriorated over the last 30 to 40 years? Because changes in new home construction practices that evolved out of the 1970's energy crisis created "tight homes" that are tightly sealed, heavily insulated and very energy efficient. While these new construction practices helped conserve energy which is good for our national security, they also "locked-in" allergenic particles, infectious agents and toxic compounds, which are bad for the health and well being of our families. Your beautiful, "clean" home could be a major source of airborne contaminates that could prevent you and your family from feeling "healthy" and "energetic".
Property Restoration24™ has helped people who suffer from complications with mold and can help you find solutions to your indoor air quality problems.  Call us Today! 919-389-7226.